Product manager Becky Allen offers some tips for a great walking holiday in Portugal.
When it comes to getting insightful information about a destination, nothing beats the advice of our Product Team. Becky Allen, one of our product managers, has visited Portugal twice this year.
We often try to visit in advance of our leaders and guests to experience places firsthand. Not only does each new season bring new beginnings, but destinations are constantly reinventing themselves. To keep on top of things, we like to check routes, hotels, restaurants and more in order to make sure our walking holidays meet up to what we've promised you.
Below Becky shares details and photos from her recent trips, raves about the stunning scenery and provides some suggestions!
---
I have been managing our Portuguese holidays since mid-2019. Early this year I booked a short trip to the Algarve and western coast and then in May I returned to Northern Portugal. My purpose was to meet our suppliers, visit and stay in the hotels we use for our holidays, and make sure everything was set for our 2022 and 2023 holiday seasons. It had been a couple of years since stepping off a plane onto international soil, so I was very excited.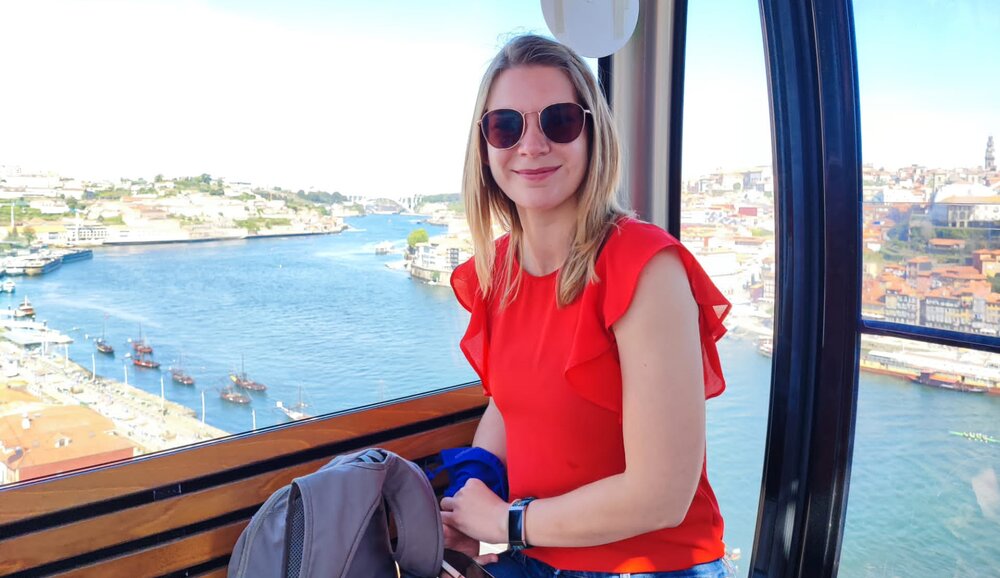 I was immediately captivated by how beautiful the Algarve and western coast is, and I can totally understand why so many people book to go on our Portuguese holidays, with many even returning to enjoy the same holiday year after year.
The Algarve landscape is incredibly diverse. The eastern coast is filled with picturesque long sandy beaches, whereas the dramatic western coast is rugged with incredible red cliffs and turquoise water. I was astounded by the fields upon fields of orange and lemon trees growing along the Algarve. Be sure to try the fresh orange juice… it's delicious! The weather was fantastic. It was 18 degrees with full sunshine, not a cloud in the sky. Perfect for rambling!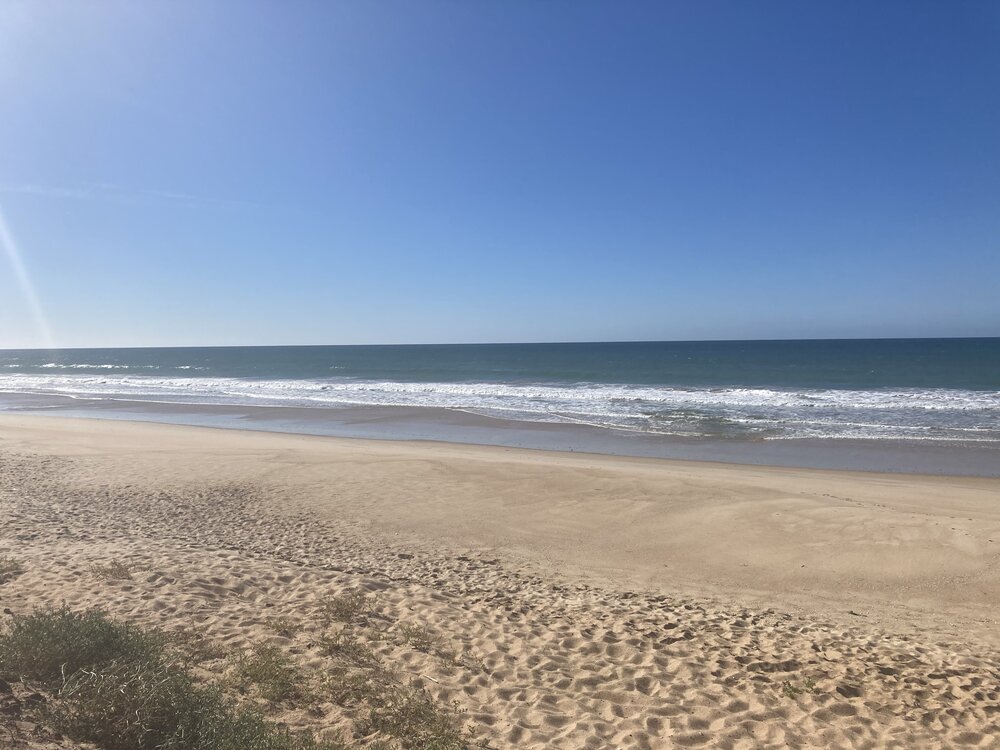 I met our local suppliers in charming Tavira, bustling Praia da Rocha, picturesque Portimao and the beach town of Armacao de Pera. My trip to each centre included visiting some of the walking routes and a tour of the hotels used for our holidays. I was impressed by Portugal's cleanliness and the friendliness of the locals. I ate dinner in the local restaurants that our groups dine in during their holidays with us. Restaurants are traditional with a lively atmosphere, filled with local diners. The food was delicious! Fresh fish caught the same day, tender meat and rainbow salads… what more could you ask for?
I visited Monte Gordo and Armacao de Pera, the two centres on our new holiday, Along the Algarve Way, following the best sections of the long-distance Via Algarviana path. The hotels chosen here are ideally located close to the path and also within walking distance of the main town centres, restaurants and picturesque coastline.
The 300 kilometres we walk on the Via Algarviana path are truly a joy as the route stretches along the Algarve from Alcoutim on Spanish border to Cape St Vincent on the west. We go at a moderate pace on mostly marked footpaths across smoothly rising and falling terrain that takes us past peaceful green landscapes, fields of orange and lemon trees and traditional farms. The wildlife and birdlife are amazing – I saw storks everywhere! Unlike the typically bustling Algarve, this is a very different experience that takes you through quieter, characterful villages.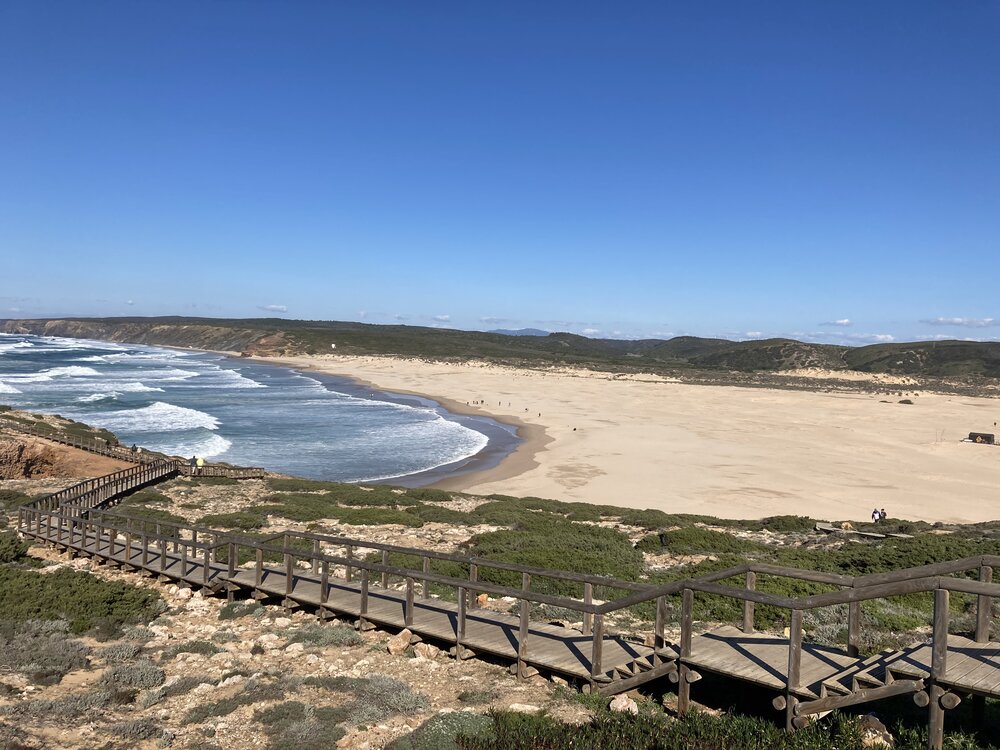 Western Portugal is wild with secluded villages dotted along the flower-filled coastline. I was impressed by the natural beauty. I travelled up the western coast, about an hour south of Lisbon, to experience elements of Portugal's Wild Atlantic Coast. Our new holiday follows highlights of another of the country's long-distance paths, the Rota Vicentina. This trip includes a mix of full and half day walks at a moderate pace over hilly terrain with some sightseeing as well.
The Rota Vicentina starts in Santiago do Cacém and finishes in Cape St Vincent. It's actually split into two routes: Fisherman's Trail along the coast and Historical Way, which is the longer of the two and runs through tiny villages. The scenery throughout is extraordinary, jagged and dramatic with craggy rocks and cliffs plus long empty stretches of sand beaches.
Our Wild Atlantic Coast holiday covers carefully chosen sections of the path, beginning in the charming fishing village of Porto Covo with panoramic views of the Atlantic waves. I followed the stunning coast down south to Sagres, a remote village on the western tip of the Algarve. I loved walking there and discovering very authentic little spots – a more 'real' Portugal. As it was March, the cliffs were also covered with colourful wildflowers.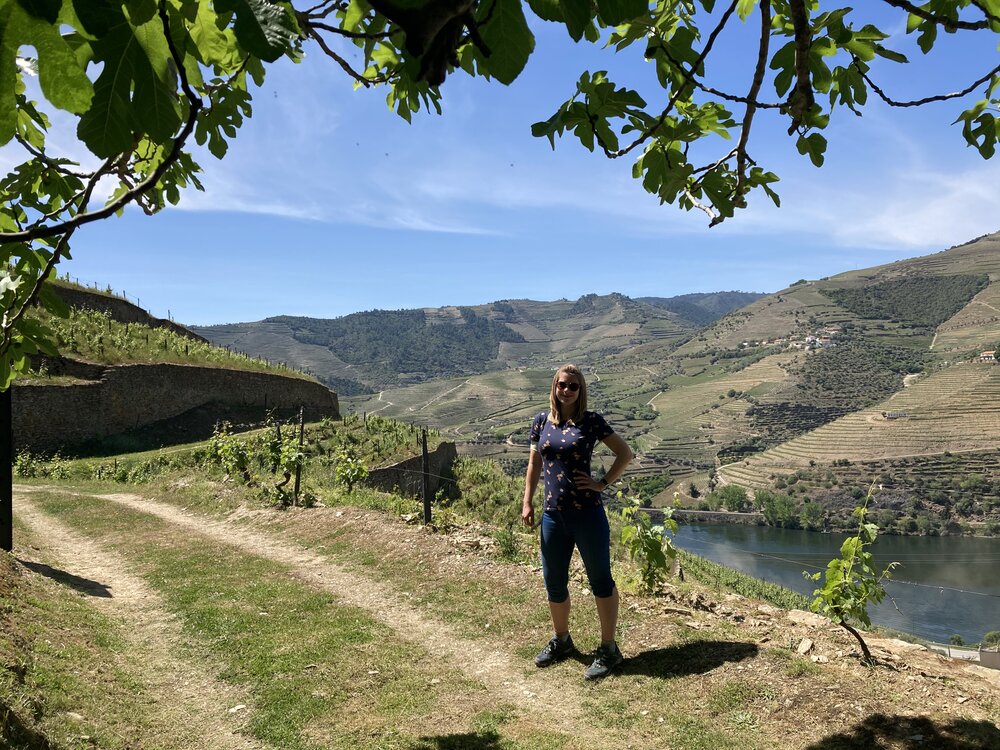 I was lucky enough to return to Portugal again in May and visit the Peneda-Geres National Park, the Douro Valley and Porto. I even walked some of the famous Camino de Santiago pilgrimage route in Portugal and Spain. Each area was so different and special in its own way. I can't begin to pick my favourite and want to go back to each all over again!
During my time there, I got to experience some of our hotels as well as get a taste of the walking routes our groups enjoy on our Wilderness Parks of Northern Portugal and Regua & the Rio Douro holidays.
The Peneda-Geres National Park was so dramatic with its surprisingly craggy and wild landscape replete with wildflowers, wild horses and other wildlife. It's a walkers paradise, especially the unspoilt scenery, granite topography of Meadinha and ancient trails down the lush valley of the river Peneda.
The scenery in the Douro Valley was just as breathtaking. I really did fall in love with the area and its rolling green hills filled with miles upon miles of vines. We passed many tiny mountain villages while following the glorious river Douro as it wound its way through the hills. My favourite part? The port tasting. A bottle of port now sits prominently in my kitchen!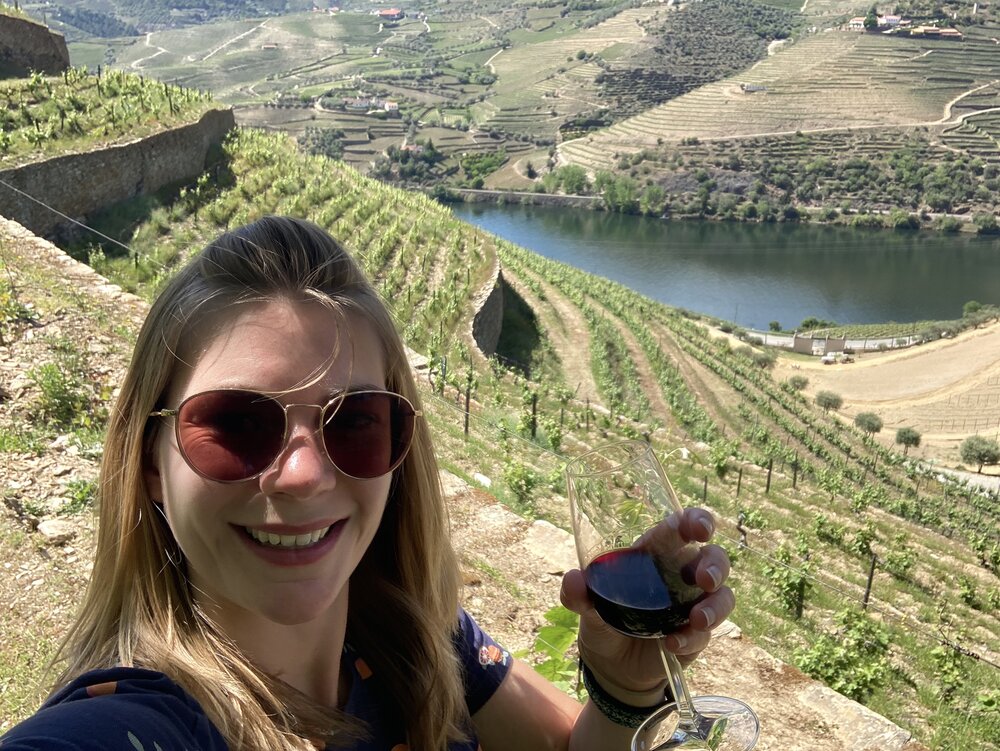 Before departing, I was taken on a guided tour of vibrant and colourful Porto where I learned about its history and culture. The second largest city in Portugal, there is much to discover here. I highly recommend venturing down some of the quieter streets, where you'll find hidden bars serving delicious wine and cocktails as well as the massive Half Rabbit sculpture made entirely of recycled materials.
Throughout my time in Portugal, I enjoyed very tasty pastéis de nata and even bought some to bring home – however I ate them before I left the country!
All of my recent visits have also inspired new ideas for future holidays so watch this space...
---
Find information about all our upcoming holidays in Portugal here.
Back