From leisurely lakeside strolls to more challenging fell climbs, we've rounded up some of our favourite treks right from the doorstep or within easy reach of Hassness Country House.
Buttermere is one of the most beloved destinations in the Lake District, perfect for outdoor enthusiasts and walkers alike. Meaning 'lake by the dairy pastures', this area offers a stunningly beautiful landscape encompassing lakes, mountainsides, summits and ridges.
You'll find our Hassness Country House nestled on the shores of Buttermere. Along with providing a peaceful, welcoming base for our numerous guided walking holidays, guests are also able to stay here and explore the gorgeous setting independently at their own pace.
From gentle strolls to ambitious mountain days out, from walks starting at the door of Hassness Country House to those only a short bus ride away – there's something perfect for all fitness levels and abilities.
We've asked Julia and Tim Williams, two of our expert Ramblers Walking Holidays leaders and fellow Lake District admirers who regularly adventure around Buttermere, to share their 10 favourite walks with you.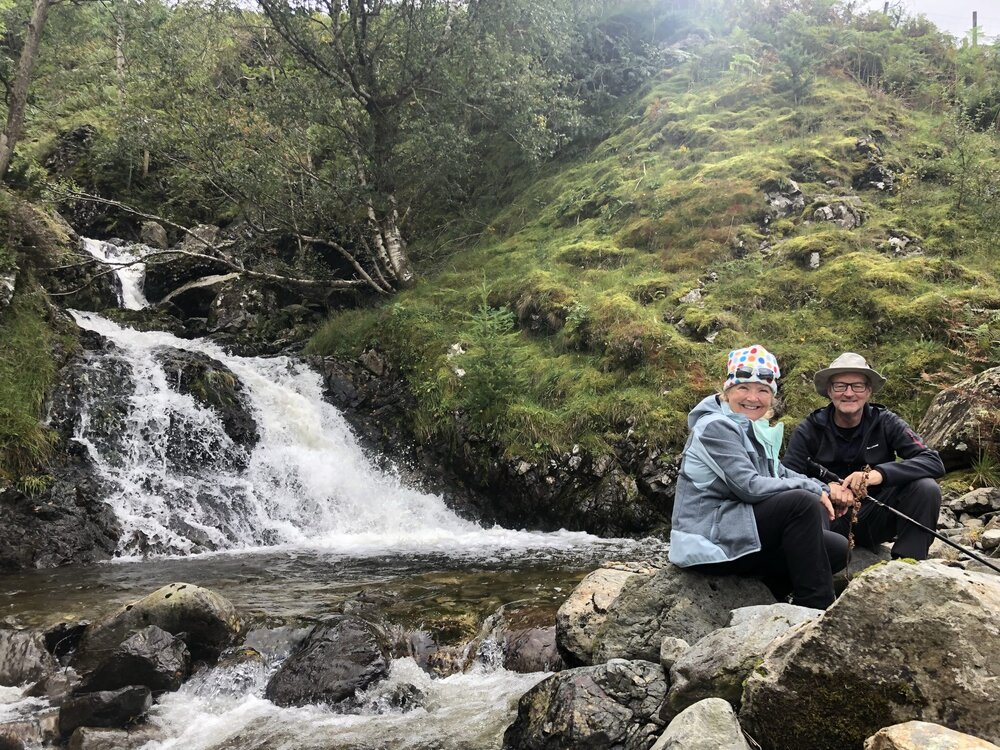 Exploring the lakes, valley and smaller fells
These walks are generally suitable for all skill levels and abilities and can be done in all types of weather.
Around Buttermere
No stay at Hassness Country House is complete without walking around Buttermere. Easy, well-trodden paths wind their way past waterfalls, meadows, woodlands, beaches and even a rocky tunnel. In early morning or evening light, the reflections and views in the lake are unbeatable.
Distance: 7.7 kilometres/4.8 miles
Height gain: 90 metres/295 feet
Rannerdale Valley and Rannerdale Knotts
Wander through the tiny village of Buttermere, admire Crummock Water (the lake next door) and then head over a fine hillside to gain views of the Irish Sea on a clear day. You might then take a leisurely stroll up Rannerdale Valley, or a steeper climb up to Rannerdale Knotts – both fine choices. Either way, your descent takes you past a delightful glen with waterfalls and woodland.
Via Rannerdale Knotts:
Distance: 10 kilometres/6.2 miles
Height gain: 350 metres/1,280 feet
Via Rannerdale Valley:
Distance: 10.9 kilometres/6.8miles
Height gain: 300 metres/985 feet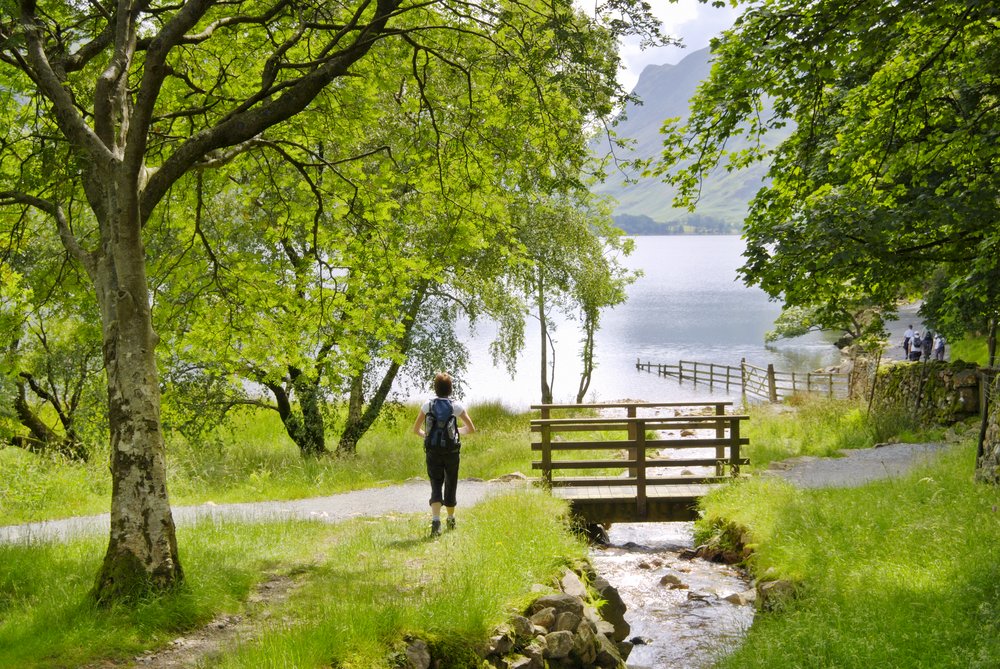 Crummock Water
The lake next door also deserves circumnavigation. The path around it is varied in height, viewpoints and terrain, and is almost invariably quiet. The spot at the north end of the lake is full of interest with fish ladders, beaches and more. On the way back you could detour to peer through the trees at shy Scale Force, the highest single drop waterfall in the lakes, even though its full glory is not always visible.
Distance: 15.5 kilometres/9.6 miles
Height gain: 180 metres/590 feet
Adding Scale Force visit:
Distance: 16.5 kilometres/10.2 miles
Height gain: 280 metres/920 feet
Bleaberry Tarn and Scale Force
Want to climb higher, but not quite to the highest and steepest fell tops? Bleaberry Tarn is a dramatic setting, a classic glacial tarn with spectacular views. You can retrace your steps, or climb a little higher, over the col by Dodd, and descend via Scale Force. It's steep, but again the path is well-trodden and clear.
Via Gatesgarth:
Distance: 12.8 kilometres/7.9 miles
Height gain: 690 metres/2,263 feet
Via Buttermere Village:
Distance: 10.3 kilometres/7.9 miles
Height gain: 640 metres/2,100 feet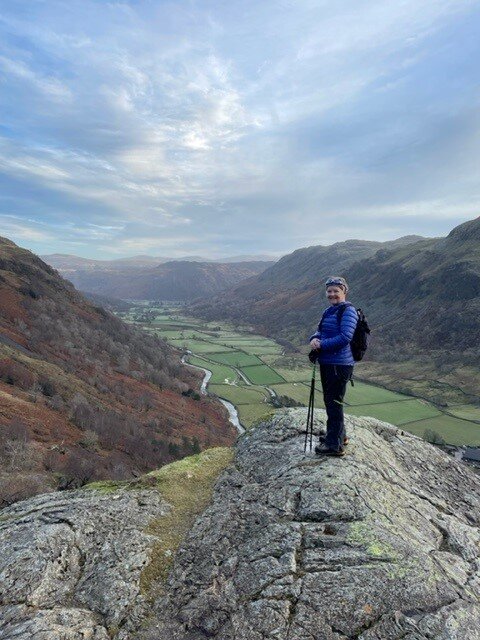 Exploring high on the fells
These walks are best suited for fine weather days and more experienced hill walkers.
Wild Ennerdale and Black Sail Youth Hostel
This walk is often overlooked because people are drawn like magnets to its deservedly famous walk nearby – Haystacks. But it is absolutely worth the effort… to see Ennerdale, one of the most remote and glorious valleys of the lakes. Walk up to Scarth Gap, then down to the Black Sail Youth Hostel, formerly a tiny remote shepherd's hut, then steeply up the well-named Loft Beck. This opens up choices to then descend in a direct line, to meander via the fascinating slate mining remains of the Drum House and Dubs Quarry, or to avoid much of the descent by making a beeline for the café at the Honister slate mine and catching the bus home.
Distance: 13.3 kilometres/8.3 miles
Height gain: 710 metres/2,330 feet
Haystacks and Inominate Tarn
This is the classic walk from Hassness Country House. Alfred Wainright, in his uniquely forthright style, said that 'a man could forget a raging toothache on Haystacks' because he thought it was so enchanting. After a walk along Buttermere to Gatesgarth Farm, climb to Scarth Gap, then further up via a couple of short scrambles, to reach the summit. It goes without saying that the views are superb, but the walk along the top is full of interesting pathways and rocky outcrops, little tarns and perfect places to perch. On the loop around the back of Haystacks, Inominate Tarn is a jewel. You may choose to add the ascent of the further fells of Brandreth and Grey Knotts, where you can look down on the knobbly tops of Haystacks, either way, there is a choice of paths to lead you back down making this a satisfying loop walk.
Distance: 12.3 kilometres/7.6 miles
Height gain: 630 metres/2,065 feet
Including Brandreth and Grey Knotts:
Distance: 15.8 kilometres/9.8 miles
Height gain: 855 metres/2,805 feet
Red Pike, High Stile and High Crag
From every room in Hassness Country House, you look out at this fine ridge, with waterfalls cascading down the front of the mountainside. The path up Red Pike is steep but clear to follow, and the walk along the top is a wide, grassy delight – each summit giving new and dramatic views over lakes, tarns, cliffs and ravines. The path down from High Crag is also clear and steep, but made easier by well-placed rocky steps.
Distance: 14.1 kilometres/8.8 miles
Height gain: 920 miles/2,330 feet
Great Gable and Green Gable
This is a big day out suited only to the fittest and most experienced hillwalkers on a fine weather day, but there are plenty of big walks to be had from Hassness Country House, and this one is arguably the best. The majesty of these mountains towering above Ennerdale is undeniable. There is a very satisfying circular route to be had from Hassness Country House via Brandreth, Green Gable and Windy Gap, and back via Black Sail and Scarth Gap. It's long and remote with steep and rough walking in places, and it offers all the variety, challenge and satisfaction of a true mountain day.
Distance: 16.3 kilometres/10.1 miles
Height gain: 1,035 metres/3,395 feet
Exploring the greater vicinity
In the summer season, a public bus stops close by Hassness Country House, and this opens up a whole range of other walks, some satisfyingly linear: bus one way and walk the other. We've chosen just two here to complete our list of 10.
Robinson, Hindscarth, Dale Head
These are among the fine group of mountains behind Hassness Country House – more wide ridges linking airy, empty summits. Our route takes you up from Buttermere village, across Buttermere Moss, to Robinson, Hindscarth and Dale Head. Catching the bus home from Honister Pass slate mine is a great option for weary legs.
Distance: 12.4 kilometres/7.7 miles
Height gain: 910 metres/2,985 feet
Loweswater
This little gem is the next lake along to the northwest, after Crummock Water, and it is well worth the visit. One reason we love it is the wonderful circular walk, this time not around the lake, but across the hillside alongside it, giving easy access to great views on an easy path with enough ascent to give interest without difficulty. Then wander back along the wooded lakeshore, calling in at a classic Lakeland pub, the Kirkstile Inn. You take the bus to and from the tiny hamlet of Lanthwaite for the start and finish of this walk.
Distance: 16.7 kilometres/10.4 miles
Height gain: 375 metres/1,230 feet
---
Please note: This information is just meant as an overview and these are just a small sample of the countless wonderful walks you can enjoy in the greater Buttermere area. Always make sure you know your route in full detail plus check the weather and have the appropriate shoes, clothing, water, food and equipment on hand before going out on a walk. If you have any questions, just ask the friendly managers at Hassness Country House and they will be happy to help you find more information and the appropriate route maps.
Prefer to leave the navigating to one of our expert Ramble Worldwide leaders? Find details about our many guided walking holidays in the Lake District here.
Back