Tania tells us all about training to be a Ramblers Walking Holidays leader, the pandemic, Hassness House and her excitement for the holidays ahead.
So, it was all change in 2021 for me… We moved from Scotland to Dorset in April and at the same time I moved from teaching full-time in the classroom, to working freelance as an outdoor instructor and walking tour leader.
As for getting involved with Ramblers Walking Holidays, the wheels were set in motion in 2019 when I contacted Mandy, the leaders manager, enquiring about possibilities. At that time I was not able to commit to the New Leaders Training week due to working full-time as a teacher, so my initial interview was put on hold.
Along came Covid in 2020 and I found myself having a Zoom interview instead and being invited to join Ramblers Walking Holidays as an aspirant leader. We now had to hold our breath about the next training course. With Covid gripping the country, it was not going to happen. At this point I did wonder if I would ever become a bona fide Ramblers Walking Holidays Leader.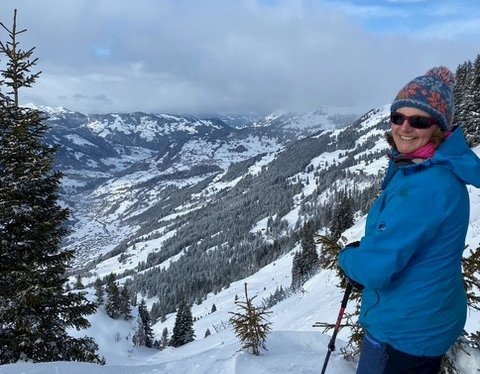 An email from Mandy held out a lifeline – aspirant leaders were going to be given the opportunity to co-lead a UK tour with an experienced leader who would act as a mentor. I hastily applied for a few local tours and before I knew it had been assigned my first two – one in May in the Cotswolds and one in August in South Devon. I attended a number of Zoom briefings and 'met' key people in the office as well as learned about how to access the leaders' pages and use all the relevant documents relating to our tours.
I was extremely lucky in that I had the most amazing leader for my first tour in the Cotswolds. I met up with Sarah a few weeks earlier. She gave me a whistle-stop tour of the area and we did one of the walks. We got on extremely well and I knew we were going to have great fun working together.
May came around very quickly and I found myself at the hotel, dressed in my new RWH red fleece, and Covid mask, greeting our customers. As we were still under strict Covid rules, it was difficult to meet altogether as a group inside the hotel. It did not detract from a great holiday. The customers, many of them seasoned RWH holiday makers, appreciated the efforts of their leaders. We were able to walk in two groups, something they really liked as we were able to have a slower and faster group – both meeting up for lunch and coffee stops. Sarah and I took it in turns with each group which meant we got to know everyone well. We enjoyed late afternoon trips into both Cheltenham and Gloucester after our walks – an extra to the advertised itinerary, which the customers loved. Sarah is the fountain of all knowledge and I certainly learned a great deal from her. One of her top tips… when researching fast facts, write them out on Post-it notes and keep them in your pocket for reference. No one need know that you are quickly swatting up on local facts as you approach places of interest!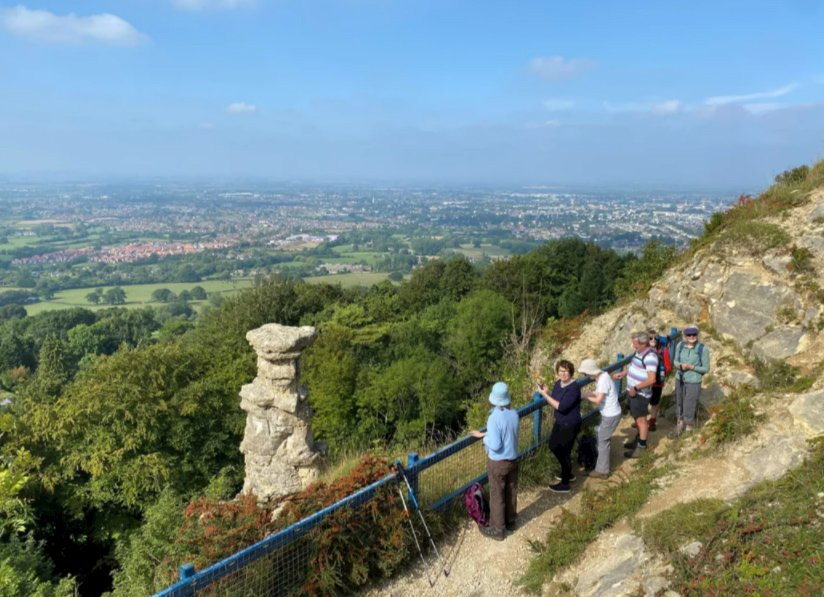 The week whizzed by and we were suddenly saying our 'goodbyes'. I had survived my first RWH tour! This was followed by a stream of lovely feedback – it is not often that others say nice things to you… certainly not working in a school setting. Well, working for RWH, you do receive lovely positive feedback which gives you a real boost. If I am having a bad day, I will go back and re-read comments from satisfied customers… and then to my husband, just to make sure he really appreciates me!
I went off to my second tour in South Devon buoyed by the experiences of my first, and met up with my second mentor – Stuart. This time I had the confidence to get more involved in the decision-making, daily briefings and writing the daily reports in the tour comment sheet. Another great week with 17 satisfied customers. Again I learned a great deal of the local history at Slapton Ley, and Stuart, a retired Naval officer, had many interesting stories to tell. We encouraged swimming at lunchtime and visits to the local pub in the evening. Sixteen happy customers left at the end of the week and again the feedback comments put a smile on my face and a spring in my step!
So, I thought that was my lot... but, no. In August I heard from Sarah and she asked if I was free for a few days in September. I was – I had a five-day window sandwiched between my DofE jobs. I found myself back in the Cotswolds leading on a large private tour of Ramblers from Essex. This time, I knew my way around and even found my fast fact Post-it notes lurking in a folder at home. Another week, and more happy customers.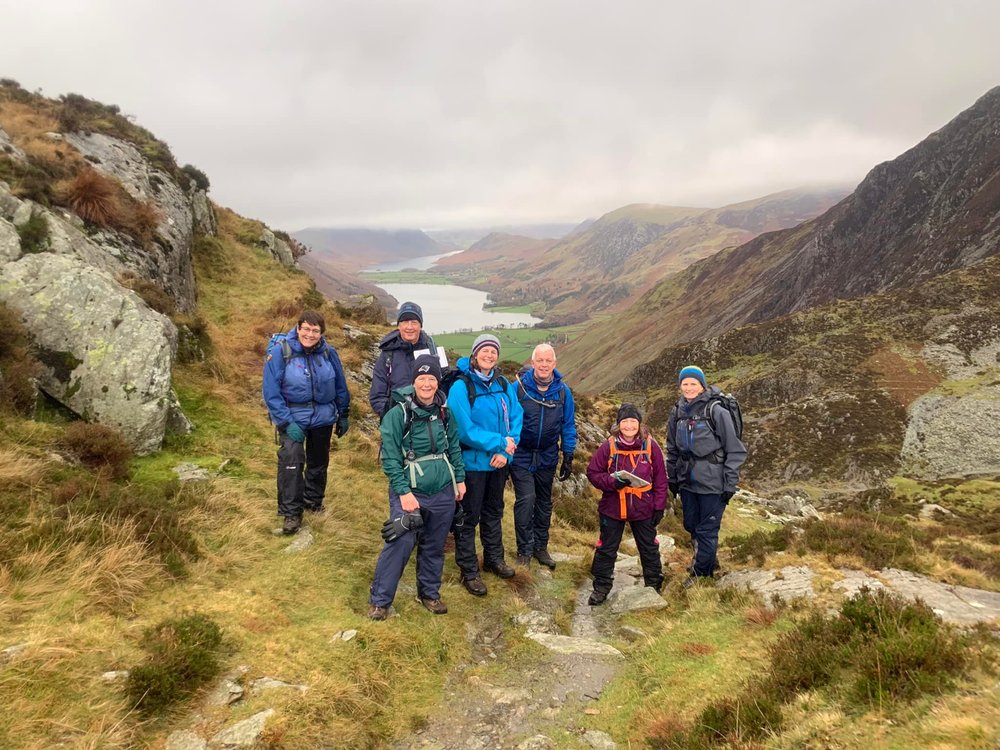 Next on the agenda was the New Leaders Training course. Finally, this was going to take place in November – the very last week before Hassness House closes down, re-opening briefly in late December to operate festive breaks over the Christmas and New Year periods. Twelve aspirant leaders arrived not really knowing what to expect. Many of us had already co-led some tours, so were familiar with RWH's operations. The week passed in a whirlwind of classroom-based sessions… well, more a comfortable lounge with large windows looking out across Buttermere and mountains beyond. Time was also spent out on the hill with the trainers honing our navigation skills. We were going to be assessed against the requirements to pass the NNAS Silver Award. Some of us were already qualified mountain leaders and NNAS tutors, so it was really appreciated when we were asked to help facilitate the training for our co-aspirant leaders. Assessment day came around quickly – it was not as bad as some thought it might be. We basically went on a half-day journey, each taking the lead to find re-entrants, spurs, ring contours and other features on a 1:25000 OS or Harvey's Map. Most of us passed and a few went off the following day to be re-assessed, returning triumphant. We all received our leaders certificates at the end of the week. If you are reading this as an aspirant RWH leader DO NOT BE AFRAID OF THE NAVIGATION ASSESSMENT – there is absolutely nothing to be afraid of. Enjoy it – the trainers and assessor are all on your side!
So, we are now into 2022 and I have found myself assigned a two-week Grison Alps tour in Switzerland leading in Arosa and Klosters. I am so excited! This is an area I know quite well and can't wait for September to come around. I also hope to do some more tours in the UK and have let Mandy know that I would love to return to Hassness House – a very special place in one of the most stunning areas of the UK!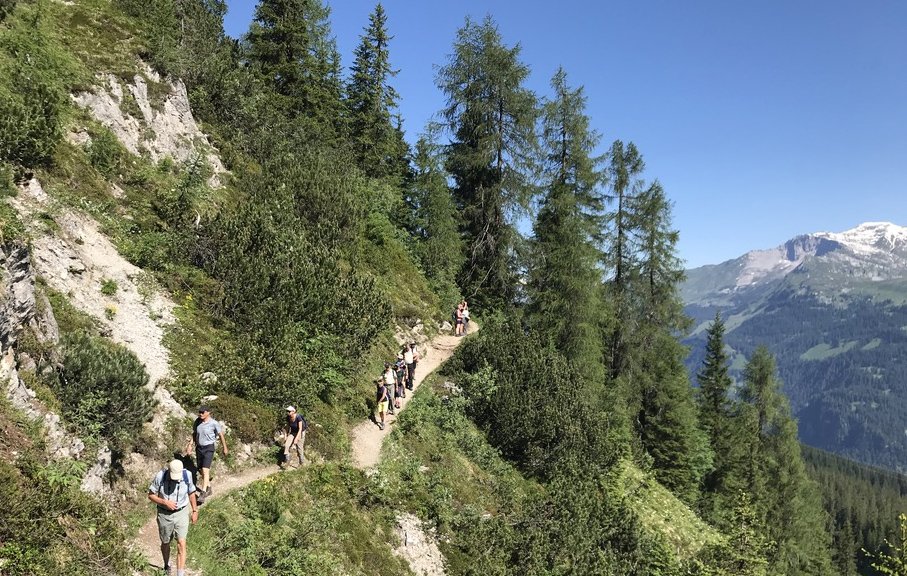 If you are thinking of becoming a Ramblers Walking Holidays leader, don't hesitate. You will be well trained and extremely well supported all the way. What's more, you will make some wonderful new friends, meet some fascinating people and visit some stunningly beautiful places. In addition to all of this, you will spend a week in the splendour and comfort of Hassness House on your training course… what's not to like in all of that!
---
If you're interested in finding out more about being a leader at Ramblers Walking Holidays please email Mandy at leaderssupport@rwhtravel.com. Plus read more about out New Leaders Training course held at Hassness Country House in the Lake District in our blog 'We're thrilled to welcome 12 more expert tour leaders'.
Back