Helen Nelson, head of our Product Team, shares special moments and exciting adventures from her visit to Greece's largest island.
Having the opportunity to experience our holidays in person is an important part of the role for every member of the Product Department team. We get to speak to our customers face to face and discuss what they like about our holidays, and also what could be improved, plus we experience the hotels, eat at the restaurants and of course join the walks. It helps us plan holidays better as well as know what information we need to convey on our website and in our Holiday Information sheets to help you decide which holiday is best for you.
In September Helen Nelson, head of the Product Team, went out to Greece to join guests on our Crete's Mountains & Villages holiday. Read on to discover her highlights and see what advice she has to give so you can make the most of our walking adventure in the country.
---
Flying from London into Heraklion, the transfer took about an hour to the hotel, and I was soon settled into my room, bags unpacked and off to meet the group that would be my family for the next week.
Over dinner at our hotel's waterfront taverna, as the wine flowed, we discovered where we had all travelled from, what we were most looking forward to this week (for me it was the visit to Spinalonga), where we had holidayed before with Ramblers Walking Holidays and where we wanted to go next. Our hotel, being about 10 minutes from the coastal resort town of Agio Nikolaos, was in a quiet position in a garden setting with a sandy beach right in front that proved to be a great place to cool off each day when we got back from our walks. Sun beds were reserved for hotel guests and towels were provided by the hotel.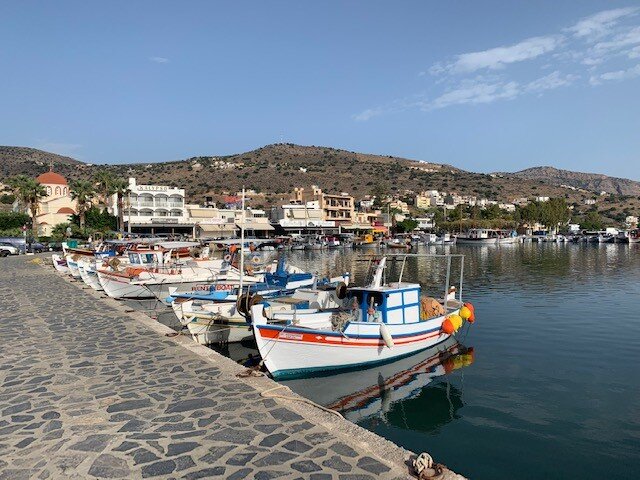 Our walks took us to small villages high in the hills with Kritsa offering some lovely ceramic and clothes shops as well as a women's cooperative full of fresh-baked cakes and jams to buy and Psychro, where I tried a traditional eastern Cretan Dakos for lunch. Close to the seaside town of Elounda, there are two islands – Spinalonga and Kolokitha – and we were able to visit both during our trip. Walking above Elounda and down to the village of Plaka, we took the ferry over to Spinalonga, once a Venetian fortress, then occupied by the Ottomans and finally used as a leper colony up to 1957 when it closed. If you have read The Island by Victoria Hislop, Spinalonga will be familiar to you and the visit brought the book alive for me.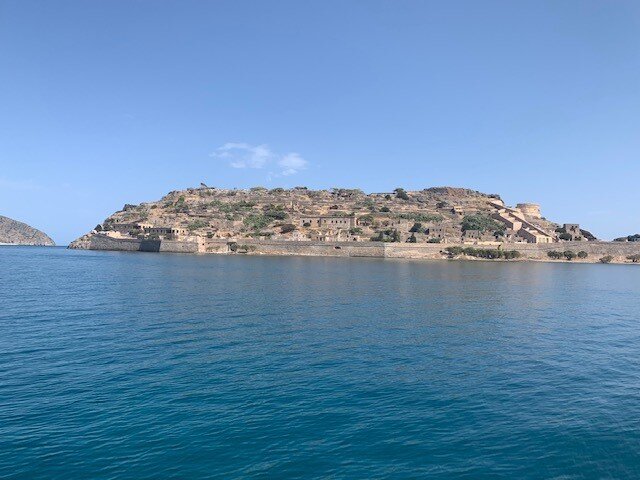 The Lasithi Plateau is an agricultural area about an hour inland from the coast and is surrounded by mountains so the plateau is like a bowl and is where a lot of the fresh vegetables and fruits you can buy locally are grown. Once upon a time, the wooden windmills you see dotted around would have drawn water from the deep wells to irrigate the crops. Here we saw apples, peppers, beetroot, watermelons, tomatoes and potatoes growing in the fields as we crossed the plateau heading for the Cave of Diktaean, where the story says Zeus was raised in secret to protect him from his father. Without giving the surprise away, this is more than just another dark cave and the slightly challenging walk up is well worth the effort!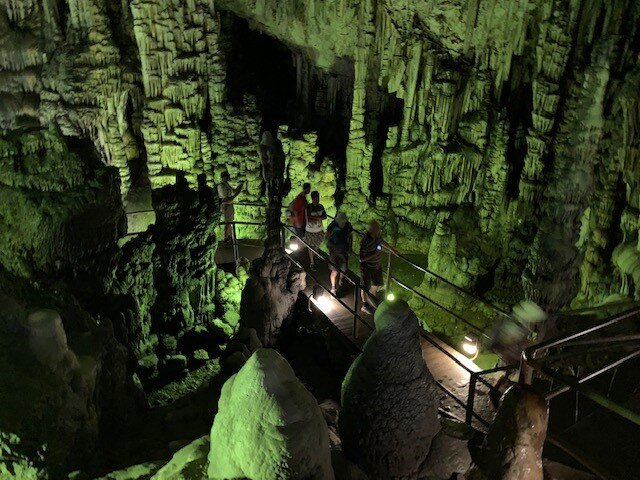 There was great camaraderie within the group. We chatted as we walked along, encouraged each other when ascents proved a little more challenging and enjoyed spectacular views over our picnic lunches.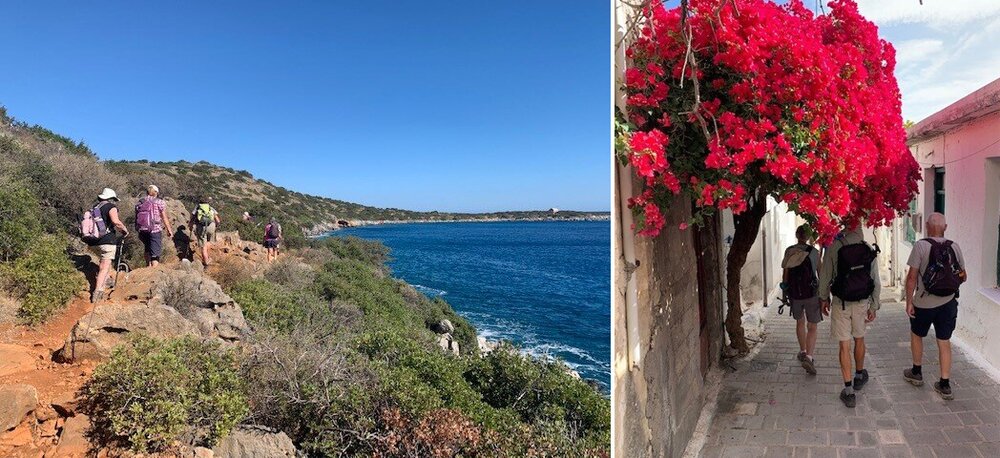 Each evening our walks' leader discussed the next day's adventure telling us what we can expect and giving us a little background on the area. Everyone had been on a holiday with Ramblers before, some had been travelling with us for decades, and many an evening was spent sharing memories about places and leaders. I thoroughly enjoyed my visit to Crete and sharing the experience with our guests, and I hope it's not too long before I can pull on my boots again and enjoy more group walking.
---
Find information about our upcoming holidays in Crete and throughout Greece here.
Back