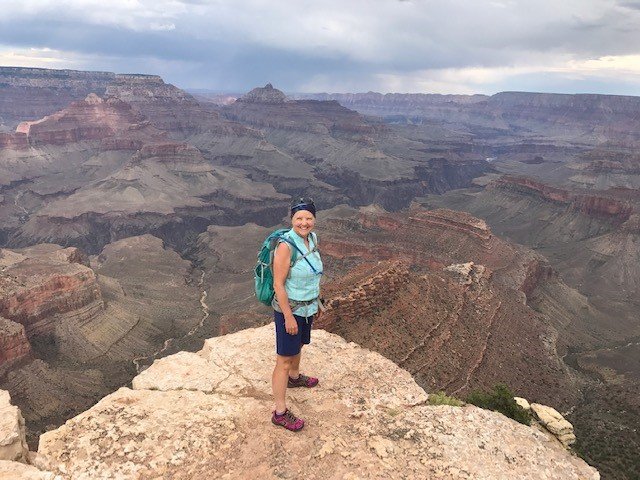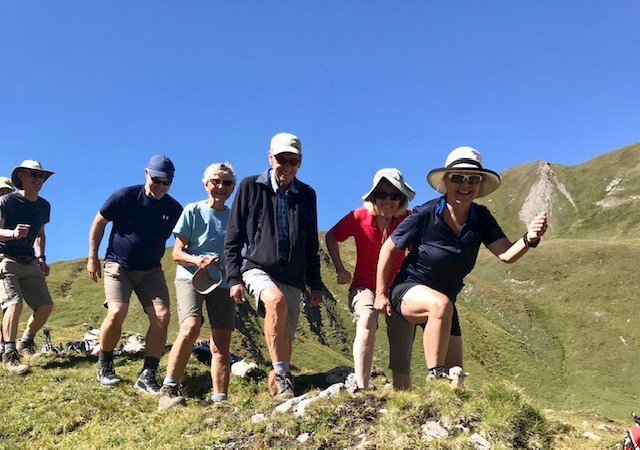 As we meet at the start of the holiday, I often ask people what they are concerned about for the coming week. The most common worry is, inevitably: 'will I keep up?' Every time. So, you can be absolutely certain that you are not alone!
We have walking holidays for every ability. But which one? Here are my top tips for choosing the right walking holiday grade for you.
1. Check the grade information, and most importantly the distance you will typically be walking in a day. Then, find a willing friend and, quite simply, walk that distance. Or work your way up to it. Nothing beats actually knowing how you feel after that.
2. Knees and hips. Dodgy? Replacements? Again, very very common, and don't be put off. I lead Grade 8 holidays in the Alps and have seen 'two new knees' all the way around the Tour du Mont Blanc (on the same person). Okay, that may not be quite the norm, but it can be done. It's a question of preparation and working out just how far you can comfortably walk, and on what kind of terrain. Only you know how your body feels, and you'll only know if you work up to it first at home.
3. Choose a destination where you know you'll enjoy having a day to yourself if you need to take an extra rest day.
4. If you are worried, be prepared to book a lower grade walking holiday than you're used to. You can always do a bit extra.
5. Multi Centre holidays are surprisingly more tiring, so factor that into your choice: opt for a lower grade walking holiday if you know there's lots of travelling around and you are concerned about your fitness.
6. Have good kit and walk with it at home. Good quality shoes or boots with the right grip and support make the world of difference, even on the shorter walks. If your feet and knees are feeling a bit worn out, check your footwear, they might be like pair of slippers for comfort, but they might be worn out too!! Trekking poles can be very useful indeed, used well they can really take some pressure off your joints. A comfortable day sack is also a must.
7. Keep an open mind when you're on holiday with us. As leaders, we do! If someone is struggling with the pace, we will always do everything we can to find a solution. That may involve catching a bus or taxi to do just half the walk or waiting in a cafe while the rest of the group do the 'extra loop'. The key is, be prepared to be flexible and ask for help. Don't struggle on. We won't slow the whole group down for the entire holiday for you, but there's lots we can do, advising you which will be the easier days.
8. Consider our 2 grade holidays, where there will be a harder and an easier walk offered each day. We have more and more of these. I always find people really enjoy swapping between the grades throughout the holiday, depending on how they feel. It's fun to be walking with different leaders and different people.
9. Go at an altogether gentler pace. Look at our Adagio holidays and in that brochure, you'll also find Adagio plus: a gentler pace but still spectacular days out. I love our Alpine Adagio plus holidays: you get all the delight of walking along high alpine paths, we just cut out the hard bits with some nifty use of cable cars and other transport. Cruise & Walk is another great alternative.
10. Take account of the climate you choose. How do you cope with heat? Or cold? Walking in extreme weather can sap your energy, so again, take this into account when you choose.
11. Check the grade. Again. Read the Holiday Information sheet, with lots of details on the walks. How hilly is it? How rough? There's a ton of information. And, if you're worried or have questions, pick up the phone and talk to us, we are here to advise you.
12. Go for it! If you are looking at our more challenging walking holidays and you're not sure, give us a ring. Many customers have contacted me for advice on this...how steep? How far? How long? At this grade the challenge factor varies, on some holidays it's all about distance, on others, it's the height gain or the rough terrain. We can talk you through what to expect, and compare it to what you've done before. Then you can make the right choice.
One of the most rewarding things about leading for Ramblers Walking Holidays is when I can point someone to the right holiday. When a customer reached the top of the Grand Canyon and told me she never believed she could do it, and there she was, that smile was worth a million. Every year, every single customer in my Mont Blanc groups have climbed that 6000 feet on the final day, and loved it. The Camino de Santiago: tears (of joy) at the end. The customer who struggled along the grade 6 in the Picos, but sent me an out of the blue and beautiful thank you 2 years later, thrilled at how much she had enjoyed the Alpine Arosa holiday I had recommended.
You can do it, just a matter of choosing the right trip for you.
Julia Williams - RWH Travel Tour Leader
Back